Whilst acne primarily impacts teenagers and, in some cases for women during hormonal changes,, acne appearing on mens' skin can also be common, and can be aggravated after shaving.
Men who shave regularly are more prone to acne because shaving opens up their pores and minuscule cuts can allow oils and bacteria to enter skin pores which can cause them to clog up. Some aftershave ingredients can also cause skin irritation or acne.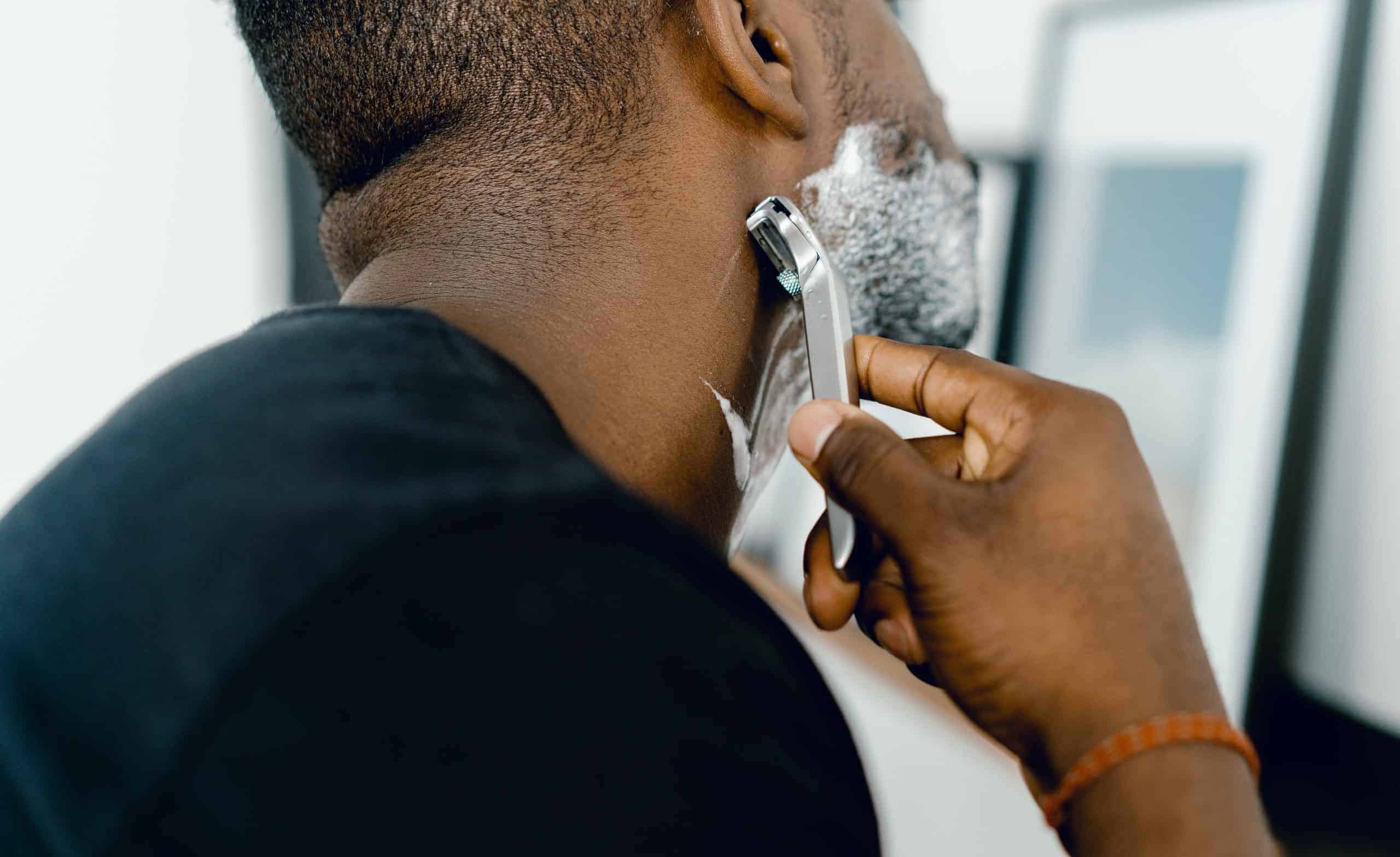 TOP INGREDIENTS THAT CAN IRRITATE ACNE
Some oils are added to aftershave to smooth your skin after shaving but can clog pores which can contribute to acne. Oils we would generally suggest to avoid include:
Sweet Almond Oil
Coconut oil
Peanut oil
Alcohol is an antiseptic agent and can eliminate bacteria, but in the process can dry out skin, irritating or contributing to the risk of acne. Dried skin causes more irritation while also increasing the likelihood of an acne breakout. We would suggest avoiding alcohol-based aftershaves or at least using an aftershave with a low alcohol count.
FRAGRANCES IN SHAVING PRODUCTS
Most skincare products come with a subtle scent to refresh you after your shave and provide you with a soft fragrance for most of the day. Most fragrances, especially those that can last a long time can be detrimental to acne-prone skin, and we would recommend using moisturisers, or unscented products when shaving.
The primary purpose of Palmitic Acid is to keep the ingredients of shaving cream thick and prevent them from separating. Palmatic Acid can cause irritation of acne, and has also been associated with dermatitis, which is an allergic reaction of the skin.
Sulphates should be avoided by people with sensitive skin as they have been known to clog pores and contribute to acne or irritation. Many products these days have a lower concentration of sulphates, but still best to avoid them if you are prone to acne.
INGREDIENTS THAT MAY CLOG PORES
We have included some additional ingredients below that may be worth avoiding if you are concerned that shaving is impacting your acne. Whilst these ingredients have their own benefits, they can also contribute to your pores being clogged, which in turn can cause irritation of the skin or acne breakouts:
Cocoa Butter
Isopropyl isostearate
Isopropyl palmitate
Linseed oil
Octyl palmitate
Oleyl alcohol
Butyl stearate
TIPS TO REDUCE ACNE IRRITATION WHEN SHAVING
Alongside doing your best to avoid the ingredients above to reduce the risk of acne, we have also included some useful tips to consider when shaving to ensure that your skin remains healthy.
Clean/Replace Your Blades: Even after shaving for the first time, your blades are highly prone to harbouring bacteria. Bacteria can enter your skin each time you shave as the blade opens up your pores. We recommend replacing your blade after 5 shaves and 10 at a maximum to reduce the risk of bacteria. When cleaning, always use an antiseptic solution to eliminate any bacteria before shaving.
Use Gentle Strokes When Shaving: A simple yet effective method to cause as little irritation as possible.
Cut Before You Shave: If you have long periods between shaving and your hair is long, it may be worth using scissors initially to reduce the size of the hairs before shaving.
Use Natural Ingredients: Natural oils are essential to soften your skin after a daily shave and can help reduce itching and swelling.
Using Oils: Whilst some oils should be avoided for acne-prone skin, as mentioned above, using oils such as hazel or witch oil can help as an antiseptic and soothe your skin. This is an excellent alternative to alcohol-based shaving solutions.
Using Vitamins: Vitamins have many benefits to the body, and to the skin, too. We suggest using products that contain vitamins to keep your skin healthy.
Use Chamomile and Aloe Vera: both of these natural ingredients can help to soothe your skin from irritation or skin damage caused by shaving and shaving gels.
CONSULT A DERMATOLOGIST ABOUT YOUR ACNE
If you have any concerns about your acne, or wish to seek professional advice, here at Stratum Clinics, we offer a wide range of acne treatments. We have many years of experience and our Consultant Dermatologists can advise you on treatment that is tailored to you. Please don't hesitate to contact us today to arrange a consultation with one of our acne dermatologists.